CAT control
… is an easy part with the standard DB9 RS-232 port.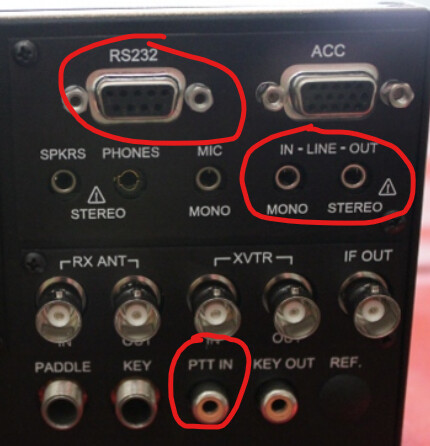 Kudos to Elecraft for actually resolving the ambiguity of the serial signal labels instead of just telling TX/RX. From below it appears that we'll need to use a crossover cable pinout (null modem). If ordering store cable, make sure to specify in order note that you need a null modem variant. The default for that listing is a straight cable used by Kenwoods.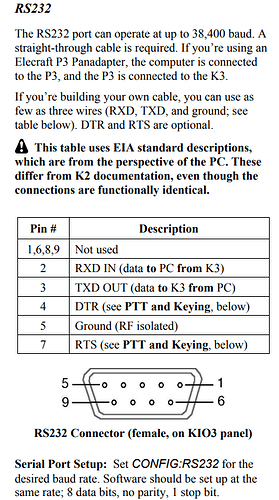 Digirig will need to be configured for RS-232 levels. CAT control is optional. The cable below alone will suffice for the basic digital modes operation.
Audio/PTT
15 pin ACC connector looking like VGA port (it's not) doesn't offer any audio. For that purpose we'll need to build a three-way splitter cable:
3.5mm TRS LINE IN tip → Digirig ring 1 (RIG_AFIN)
3.5mm TRS LINE IN sleeve → Digirig sleeve (GND)
3.5mm TRS LINE OUT tip → Digirig tip (RIG_AFOUT)
3.5mm TRS LINE OUT sleeve → Digirig sleeve (GND)
RCA PTT IN center → Digirig ring 2 (PTT)
RCA PTT IN shell → Digirig sleeve (GND)
Please report your results if you attempted this build.