Is this also with G90 as in the original post?
No; an Icom 718.
Have plugged earphones into the Digirig and can hear the noise, but the Tx light never comes on, and nothing shows up on the waterfall.
Can you post a screenshot of your device manager showing COM7?
Also, check CI-V baud rate setting in the transceiver. Is it 4800 as your WSJT-X calls for?
Let's check connections. The angled TRS connector with green molding plugs here: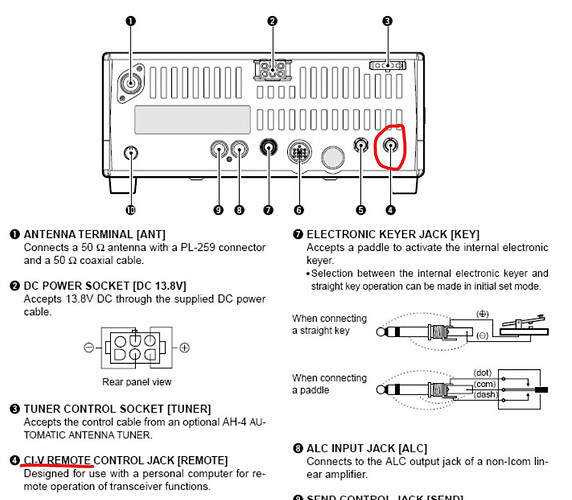 The straight TRRS end goes into serial socket on Digirig.
The angled green mini phone jack is in the external speaker socket; #5; the other end in the 'audio' socket in the Digirig. Plugged into #4, and it won't receive.
The cable marked 'serial' on the Digirig is plugged into the Accessory Port; #6.
That is not correct.
13 pin ACC connector (#6) is audio. Green angled connector is CI-V (serial) and plugs into CI-V remote socket (#4).
hooked up #6 audio/#4 CI-V.
In Digipan, transmits (and receives at the same time?)
In WSJT-X, the following:

Make sure you run one app at the time if not using middleware for CAT control. COM port is an exclusive resource so if one app controls it, another app will not be able to access it. Might need to reboot the computer for good measure.
That is a generic message. Not really telling anything other than something is not right with CAT link.
Can you please show the specifics from the configuration screen and the text of the error.
This indicates a successful CAT test.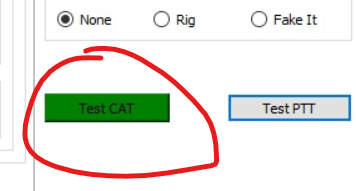 When do you get the error message? Is it during the transmit attempt? If that's the case then it's likely the RFI issue. See if issue persists with the minimum TX power and/or sending into the dummy load.