I bought a TM-271A on eBay hoping to do this mod to add the MiniDin6 interface: http://n1vg.net/
Unfortunately it turned out that TM-271A are not all US version. The US version is TM-271A(K) whereas I have TM-271A(M3). So now I have to be careful not to transmit OOB.
The bigger problem though is that the PCB doesn't match the above. Here is my PCB: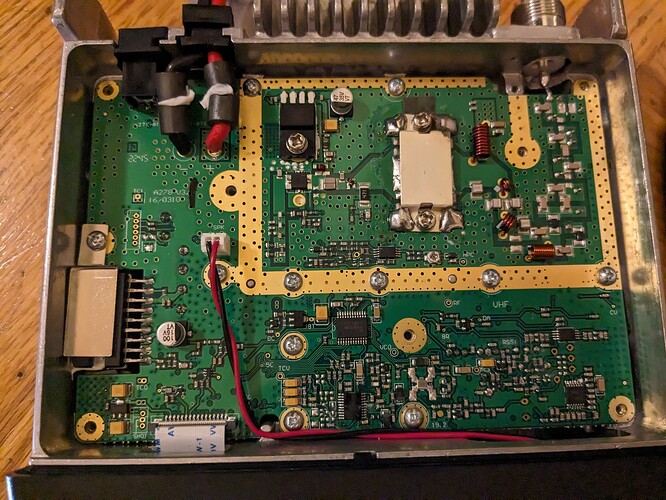 As you can see, this is quite similar to the PCB above, so I'm not sure whether what I bought is a knockoff product or a genuine Kenwood product that has just had a PCB revision.
Unfortunately the MiniDin6 pads are no longer obvious. There are 6 small pads in the same place as the old pads, but in a different configuration. Those could probably be used, but I could use some help.
Numbered top to bottom, line 1 is clearly GND. Line 3 is at 5V when squelched and close to GND when unsquelched, so this could be the SQC line (although the polarity is reverse what I expected). Line 5 is 5V and gets pulled close to GND when pushing PTT, so this seems to be PKS.
The other lines I'm not sure. Line 2 and Line 4 seem to be floating in the mV range and I don't see any change when unsquelched or changing frequency / volume. Line 6 is at 5V under all tested conditions.
I would have expected all the data lines (2 receive, 1 transmit) to appear floating, so I'm not sure what is what here. Any thoughts?