Looking for setup info on the TS-480.
Justin,
Please try following the general setup steps and report your progress here. If you get stuck then post the details we'll try to sort it out.
Turns out Kenwoods (tested with TS-480 and TS-2000) have a non-standard (crossover) RS-232 pinout. This may also be the case with Elecraft K3 (needs verification).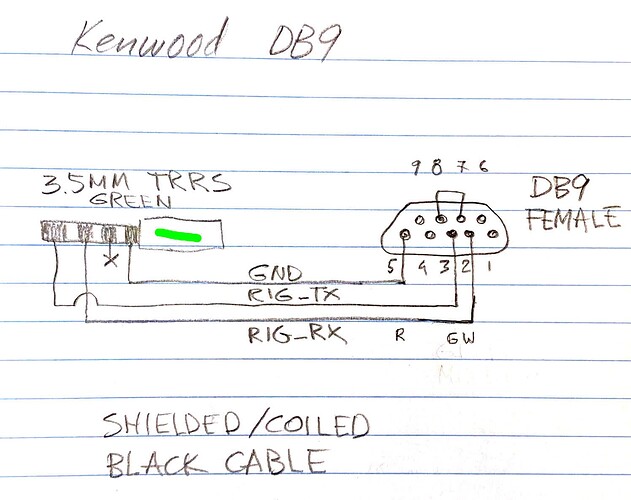 Other transceivers use the regular RS-232 pinout (pins #2 & #3 swapped).
Those who ordered DB9 cables and can't set up serial CAT control are welcome to exchange them. Email or DM me for the arrangements.
Denis,
Wouldn't a 9 pin null-modem adapter work? I have a set of the cables I ordered from you several weeks ago, but have not had a chance to put the 480 in service… I also have a null modem adapter… I'll try that combo … Unless someone has already tried without success…
Thanx,
AllaN0KFO
I would have to see the cable and the pinout to figure out if it is useable here.
It's the cable set I bought from you for my TS 480… I will maybe get a chance to test the configuration with a null modem adapter this weekend… I will follow up here…
Thanx…
AllaN0KFO
I was referring to "9 pin null-modem adapter" you mentioned in your earlier post.
OK … Gotcha… I'll ring that out when I get a chance… typically, pins 2 and 3 reversed… And handshake tied back… But I'm sure there are variations…
Here's the way they ring out … I have a pic that shows the relationships …
It is a full null modem with handshake … with tx and rx (pins 2-3) reversed. dtr and dsr (pins 4 and 6) reversed and rts and cts (pins 7-8) reversed adding pin 1 (dcd) to dtr-dsr …
The above explanation might be a little confusing, so the pic will help …


Thanx,
AllaN0KFO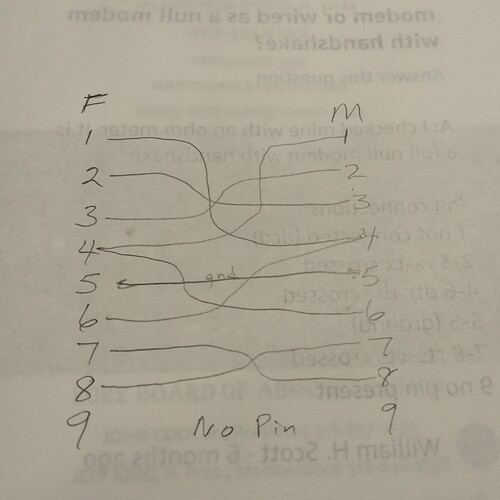 Gotcha. Thanks for the info. I'm familiar with this arrangement.
What role do you see for null-modem in regards to Digirig cables?
I just happened to re-read the post … and I guess I was just responding to your comment that the TS-480 uses a reversed tx-rx on the comm i/f … and I used to do a lot of servicework on async devices when I was getting started in IT … had a lot of experience with early xenix and Unix systems when it was originally ported to the x86 processor … so worked with RS-232 and RS-422 terminals and such … I always used to have a few null modems in my toolkit and would put them in place when I needed them to communicate … It is my understanding that a DTE device has to use a null modem when connecting to another DTE device and DCE-DCE as well … but DCE to DTE and DTE to DCE can use a straight through cable …
My comment was only offering that a null modem cable might be needed to make the comm connection … but then the conversation took a slight turn and we went off in a different direction.
Anyway, the info is out there now (pinouts, cabling schemes, etc.) and hopefully, it may help someone in the future …
I know now from reading the manual on the TS-480 that a straight through cable from computer (DTE) to TS-480 (DCE) should work fine … and a null modem is needed from the TS-480 (DCE) to another TS-480 or TS-2000 (also DCE) for proper communications.
I am not quite sure what type of equipment the Digi-rig is, but I assume it is DCE … so a null modem may be needed …
I have found in the past that if one doesn't work, the other probably will … which is why I always keep a couple null modem adapters in my comm tool arsenal …
Thanx for taking the time as always … and,
73,
AllaN0KFO