Has anyone interfaced to one of these? If so, how did you handle the balanced input/output?
Thanks,
Lee
I'm not finding much on this radio. If you stumble across the pinout for the speaker/mic connection, please post it here and we'll figure out the options.
Got the pinouts for Micom.
Thanks for Jim N5MIJ for sharing the info.
We have two options for interfacing:
Microphone Connector J1
The microphone connector is located on the lower part of the radio front panel. Table 1 lists the functions of the microphone connector pins.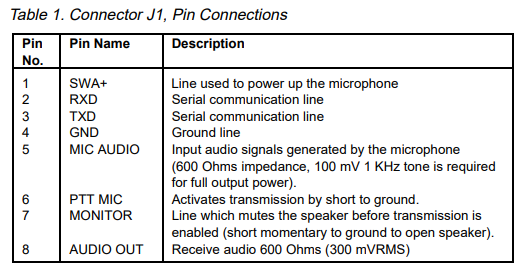 Digirig's audio cable:
J1 pin 4 (GND) → 3.5mm TRRS sleeve (GND)
J1 pin 5 (MIC AUDIO) → 3.5mm TRRS ring1 (RIG_AFIN)
J1 pin 6 (PTT MIC) → 3.5mm TRRS ring2 (PTT)
J1 pin 8 (AUDIO OUT) → 3.5mm TRRS tip (RIG_AFOUT)
Digirig serial cable (not sure how usable):
J1 pin 2 (RXD) → 3.5mm TRRS tip (RIG_RXD)
J1 pin 3 (TXD) → 3.5mm TRRS ring1 (RIG_TXD)
J1 pin 4 (GND) → 3.5mm TRRS sleeve (GND)
Accessory Connector J3
The accessory connector J3 is located on the radio rear panel. It is intended for use with external accessories such as: modem, linear amplifier, phone patch, etc.
The user can use the 25-pin D-type plug to make his own required connections or he can use the Interface cable FKN4403 (same as S809 option) when Morse key and headphones are needed to be connected by their standard connectors. Also, the user can utilize FLN2271 if he needs to connect up to four devices. Table 2 lists Connector J3, Pin Connections.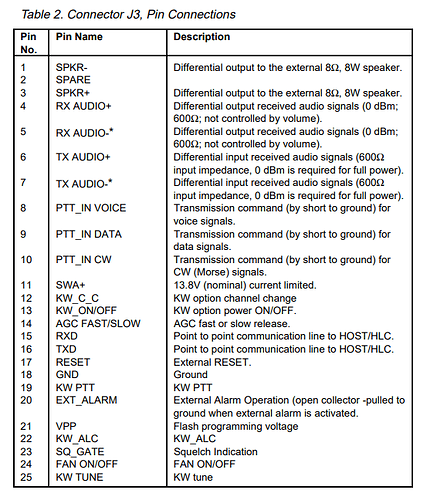 Digirig's audio cable:
J3 pin 4 (RX_AUDIO) → 3.5mm TRRS tip (RIG_AFOUT)
J3 pin 6 (TX_AUDIO) → 3.5mm TRRS ring1 (RIG_AFIN)
J3 pin 8 (PTT_IN VOICE) → 3.5mm TRRS ring2 (PTT) - one of the two PTT or both (?)
J3 pin 9 (PTT_IN DATA) → 3.5mm TRRS ring2 (PTT)
J3 pin 18 (GND) → 3.5mm TRRS sleeve (GND)
Digirig serial cable (not sure how usable):
J1 pin 15 (RXD) → 3.5mm TRRS tip (RIG_RXD)
J1 pin 16 (TXD) → 3.5mm TRRS ring1 (RIG_TXD)
J1 pin 18 (GND) → 3.5mm TRRS sleeve (GND)
please report your results