There is a data port in the back but according to the manual it is only used for programming. With that we'll be going the typical route for mobile rigs with Mic/PTT connection in front and headphones connection in the back.
The aviation type mic connector looks like GX12-6 or GX16-6.
The headphones connection use BTL design so we can't connect ground on TRS connector for the audio output. See more details on this situation in another post.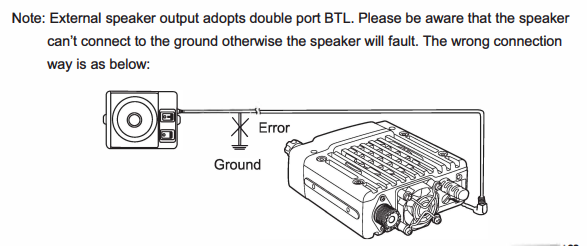 The cable pinout should be:
GX pin #1 (MIC) → 3.5mm TRRS ring 1 (RIG_AFIN)
GX pin #2 (GND) → 3.5mm TRRS sleeve (GND)
GX pin #4 (PTT) → 3.5mm TRRS ring 2 (PTT)
3.5mm TRS tip (headphone) → 3.5mm TRRS tip (RIG_AFOUT)