G'Day - Has anyone setup a Codan NGT to work with the DigiRig…??
Cheers
Rob
Interesting rig. It should be straightforward to wire it up audio, PTT and even serial RS-232 programming. I'm struggling to find the pinout information. Manual doesn't have it, not finding the schematic either. One piece of data I found is this project, but that doesn't cover audio and PTT.
If you can locate or reverse engineer connections, I'll be happy to sketch up the cable.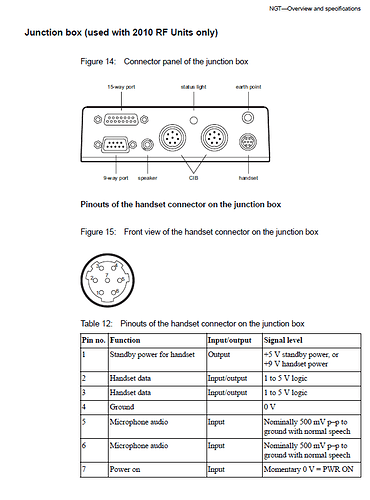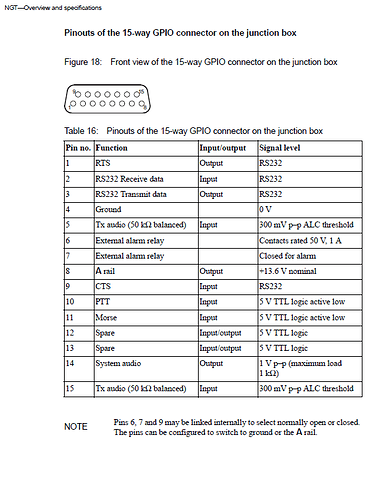 This is the pinout information for the Junction box on the NGT AR (Blue Face).
One CIB is used for the Auto-Tune antenna, and the handset is an unusual sized connector.
Thank you for sharing the info. Looks like DB15 would be the way go to.
Here's my take at it:
For Digirig's audio/PTT we'd connect
tip (RIG_AFOUT) to 14 (System audio) - doesn't mention Rx audio, but the closest match
ring 1 (RIG_AFIN) to 15 (TX audio)
ring 2 (PTT) to 10 (PTT)
sleeve (GND) to 4 (Ground) and 5 (Tx audio) - pinning one leg of balanced input
For Digirig's serial we'd connect
tip (RIG_RXD) to 2 (RS232 Receive data)
ring 1 (RIG_TXD) to 3 (RS232 Transmit data)
ring 2 to not connected
sleeve (GND) to 4 (ground)
not connected to 9 (CTS) to 1 (RTS) - hardware flow control bypass
Digirig would have to be configured for RS-232 levels
Apologies for the delay - had an issue with the RS232 network interface board in the radio. Hope to have the radio back working sometime in the next week. I have a 2nd DigiRig on order too so there might be a delay before I get to play with it…
Similar to the Barrett 4050 I'm currently working on.
Please post your cable pinout when you have it working.