G'Day - Has anyone setup a Codan NGT to work with the DigiRig…??
Cheers
Rob
Interesting rig. It should be straightforward to wire it up audio, PTT and even serial RS-232 programming. I'm struggling to find the pinout information. Manual doesn't have it, not finding the schematic either. One piece of data I found is this project, but that doesn't cover audio and PTT.
If you can locate or reverse engineer connections, I'll be happy to sketch up the cable.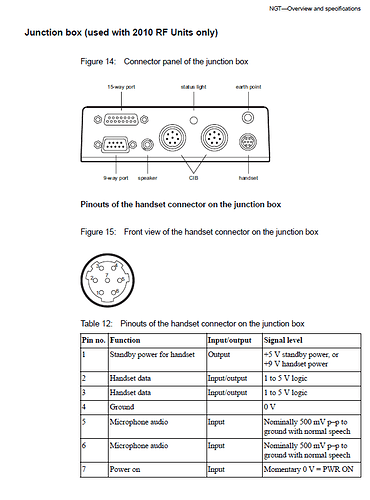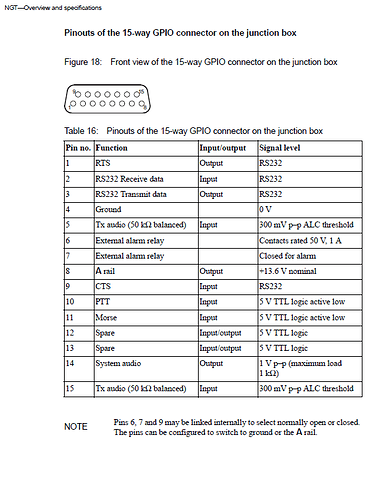 This is the pinout information for the Junction box on the NGT AR (Blue Face).
One CIB is used for the Auto-Tune antenna, and the handset is an unusual sized connector.
Thank you for sharing the info. Looks like DB15 would be the way go to.
Here's my take at it:
For Digirig's audio/PTT we'd connect
tip (RIG_AFOUT) to 14 (System audio) - doesn't mention Rx audio, but the closest match
ring 1 (RIG_AFIN) to 15 (TX audio)
ring 2 (PTT) to 10 (PTT)
sleeve (GND) to 4 (Ground) and 5 (Tx audio) - pinning one leg of balanced input
For Digirig's serial we'd connect
tip (RIG_RXD) to 2 (RS232 Receive data)
ring 1 (RIG_TXD) to 3 (RS232 Transmit data)
ring 2 to not connected
sleeve (GND) to 4 (ground)
not connected to 9 (CTS) to 1 (RTS) - hardware flow control bypass
Digirig would have to be configured for RS-232 levels
Apologies for the delay - had an issue with the RS232 network interface board in the radio. Hope to have the radio back working sometime in the next week. I have a 2nd DigiRig on order too so there might be a delay before I get to play with it…
Similar to the Barrett 4050 I'm currently working on.
Please post your cable pinout when you have it working.
Finally had time to play. But unfortunately no joy yet.
I am getting Audio in & decoded - levels are too high, but that is a job for later.
Wsjtx is set to :
Radio - Codan NGT
Serial Port - USB
Baud Rate - 38400
PTT - CAT
But I keep getting Rig Control errors.
I am using 2 TRRS plugs into the Digirig.
The Digirig was purchased setup for rs232
To simplify sorting this out - I have changed to the Digirig supplied 9 pin rs232 cable plugged into the Serial side of the Digirig. The Audio side is empty at this stage. I have set the Codan 9 pin rs232 port to 9600 Baud & the same for the Wsjtx software. Still no luck getting rid of the Rig Control errors.
Serial Port - USB
Serial port should be COM port introduced by Digirig.
Good day. I am looking to make a similar cable for a Codan Envoy X2. It uses the same DB15 connector. I am attaching the pinout diagram which is basically the same as was previoulsy posted but with a little more detail. Would I use the same setup as already suggested or something different? Attempting to use this Digirig with this radio to work with VARA HF on Winlink. Also, after reading the post I would assume I need to purchase a Digirig set for RS232 as I only have one for Logic Levels.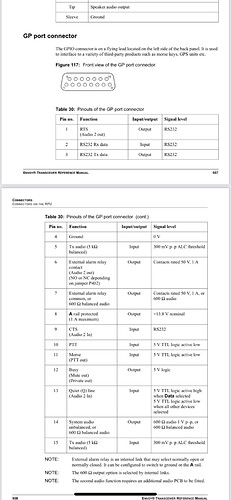 RS-232 configuration sounds right based on the information in the pinout table.
Please post the update when you have the homebrew cable built.
Would I use the suggested pin layout as previously posted? Thanks.
Yes, I would give that a try. I went over the signals in the table and ended up with the same Digirig connections as posted earlier.
Thank you. Just want to ask a few questions about the information in the table for my own clarification since I have never made a cable like this before. I definitely don't want to make any wrong connections and mess up this radio.
On the audio side, the instructions say for the sleeve: to GND (pin 4) and Tx Audio (pin 5). Is this simply just just making the sleeve connect to both pin 4 and pin 5?
Also, on the serial side, the last instruction says: not connected to 9 (CTS) to 1(RTS) - hardware flow control bypass. This is simply informational, correct? I am not connecting to pin 1 or 9 for on the serial side?
Thank you again. Just making sure I don't mess anything up.
Thanks
This part connects the grounds. Additionally, it appears that the radio's input expects differential connection for the mic between pins 5 & 15. With Digirig's non differential output we'll need to connect one line and tie another one to the ground. You are welcome to experiment with connecting Digirig's audio to 5 or 15 with another line open or grounded.
Yes, this is just an internal connection between pins 1 & 9 on the transceiver side connector. Again, you are welcome to first try without it. Some transceivers expect hardware flow control of the serial port, some don't.
Thank you. I don't really want to "experiment" as I don't want to mess anything up with the radio. Just getting clarification on the proper wiring. Thanks.
Josb