Digirig's Kenwood cable works fine for audio and PTT with this transceiver so it is possible to enjoy the digital modes in the minimal configuration. Unfortunately TS-570D's serial COM port doesn't work with Digirig using the popular digital modes software options.
This gets somewhat technical for those interested. It took a lot of coffee and a logic analyzer to figure it out.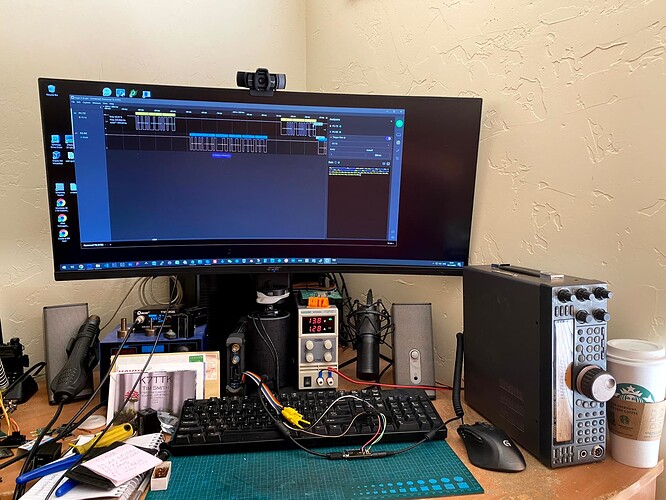 Background:
The radio uses DB9 serial port with RS-232 level signals. The baud rate is configured in menu

#35

and ranges from 1200 to 57600, most with 8N1 configuration.
For simplicity Digirig only uses two serial port data lines (TxD and RxD) and none of the legacy hardware flow control lines for their intended purpose (CTS, RTS). This works for pretty much every(*) CAT enabled transceiver under the sun because they handle the commands as they come in real time.
The issue:
TS-570D is veeeery slow in handling commands over serial CAT port.
Digirig supports no connections for hardware flow control lines so when transceiver signals that it is busy (Clear To Send is inactive), the traffic doesn't stop.
If new command comes in while previous command is being processed the transceiver becomes unresponsive and doesn't recover until rebooted (bad implementation).
There is not enough adjustment range in popular software to space out command to the point that TS-570D can reliably handle them as they come. I tried WSJT-X, Omnirig and Flrig (most flexible timing adjustments and lasts the longest before chocking, but still no Champaign).
See how the transceiver is being bombarded by the commands (yellow) and keeps up for some time with responses (blue) in the beginning, but then stumbles and becomes unresponsive: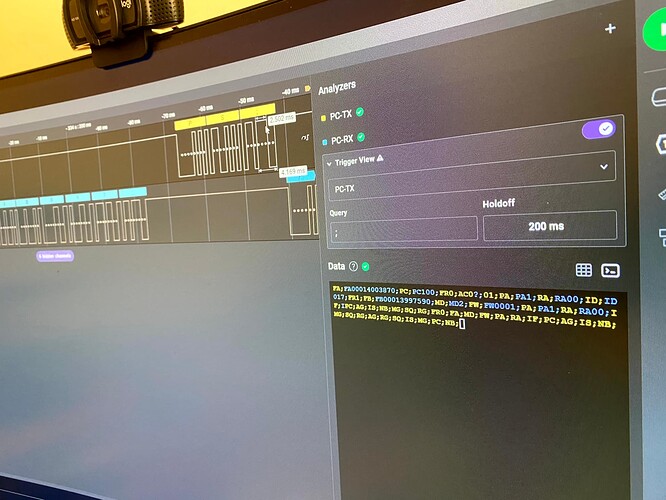 If optional serial CAT control is desired, you'll need a separate USB/RS-232 DB9 dongle with the hardware flow control lines supported.
Other Kenwood TS-570D's menu settings of interest for setting up Digital modes:
#33

- AF input level

#34

- AF output level