Today I set up a Digirig Mobile v1.9 interface on my Raspberry pi 4 to use Fldigi and Flmsg with a Baofeng 5r5 and the Baofeng cable for Digirig radios.
[Baofeng cables kit for Digirig Mobile – digirig]
My local ham club was holding a Fldigi exercise and I was receiving MT63-2KL messages correctly with Fldigi, but others were not able to receive my transmissions unless I pushed the PTT button on the radio simultaneously with initiating the Auto Send transmission from Flmsg to Fldigi. Is this normal behavior with the Digirig?
With my setup, I was under the impression that the PTT would be triggered automatically through the cable connection to the radio without my physically pushing the PTT on the radio. Correct?
Here is a screenshot of the Soundcard/Devices configuration in Fldigi: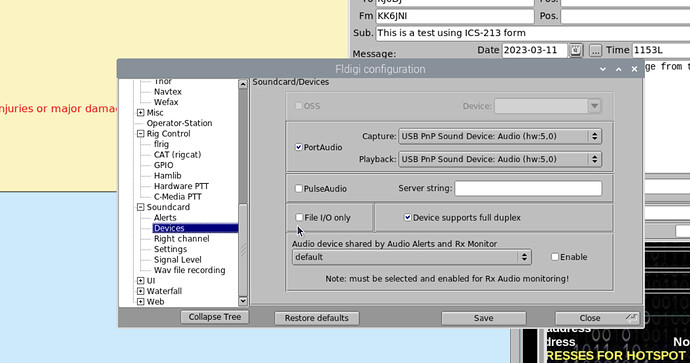 Is my Fldigi configuration incorrect? Or perhaps I need to change one of the settings on the radio?
Thanks for your consideration…
Rob KK6JNI